ABOUT BYWELL
Bywell Shooting Ground is a family run business, established back in 1980. We have generations of experience in providing you with professional service and expertise on gun-fit, accessories, coaching and all other aspects of shooting. Bywell is nestled right in the heart of the Northumbrian countryside, sitting alongside our working arable farm.

The shooting ground comprises numerous layouts with disciplines such as DTL, ABT, Skeet, Sportrap & English Sporting which have all been awarded Premier Plus status by the Clay Pigeon Shooting Association. We have hosted numerous major shooting competitions such as The World DTL Championship, European Championship, as well as British & English open Championships.

Alongside the world renowned Shooting layouts we have a large shop stocking everything from fine country attire through to all the shooting accessories you could want. We carry one of the largest selections of New and Pre Owned shotguns in the country. All the members of our team are keen shooters who have years of knowledge in the shooting World and are more than happy to assist with customers from the total novice through to the experienced shooter.

Bywell prides itself in customer satisfaction so we know you will thoroughly enjoy your visit.
THE SHOOTING GROUND
Since its inception in 1980 the ground has expanded extensively. It started with just a handful of layouts to now having grown and being a Premier plus rated ground incorporating a wide variety of disciplines. Bywell Shooting Ground sits in the heart of Northumberland, surrounded by beautiful countryside.

The ground comprises of 12 DTL layouts, 6 ABT layouts, 4 SKT layouts and various other areas which run Sportrap and English Sporting layouts. A wide variety of driven targets are available for grouse and high pheasant simulation including a 90ft high tower that will truly test your shooting. All of this is nestled within over 10 acres of manicured lawns giving the perfect setup whatever your chosen discipline to shoot.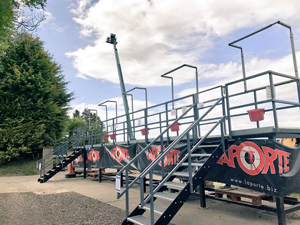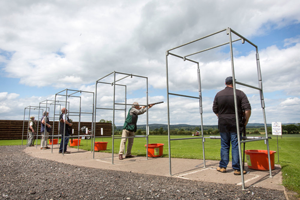 OPEN PRACTICE
We run open practice sessions open to all people with a valid shotgun certificate. We operate practice with the Promatic Clay Mate system allowing you to shoot with ease and maximum enjoyment weather coming to shoot alone or in a group. Staff are always on hand to assist you on your visit to the ground. All our practice is priced at 34p per clay. The disciplines and times we run for practice sessions are as follows.
Wednesdays
12:30 - 5:00
DTL, Skeet, Sportrap
Saturdays
10:00 - 5:00
DTL, Skeet, Sportrap, English Sporting
Further disciplines can be available to shoot by appointment. Please contact a member of staff for further details. Catering is also provided in our clubhouse on the practice days serving a wide variety of freshly prepared local produce.