Swipe to the left
Highland Stalking Part 2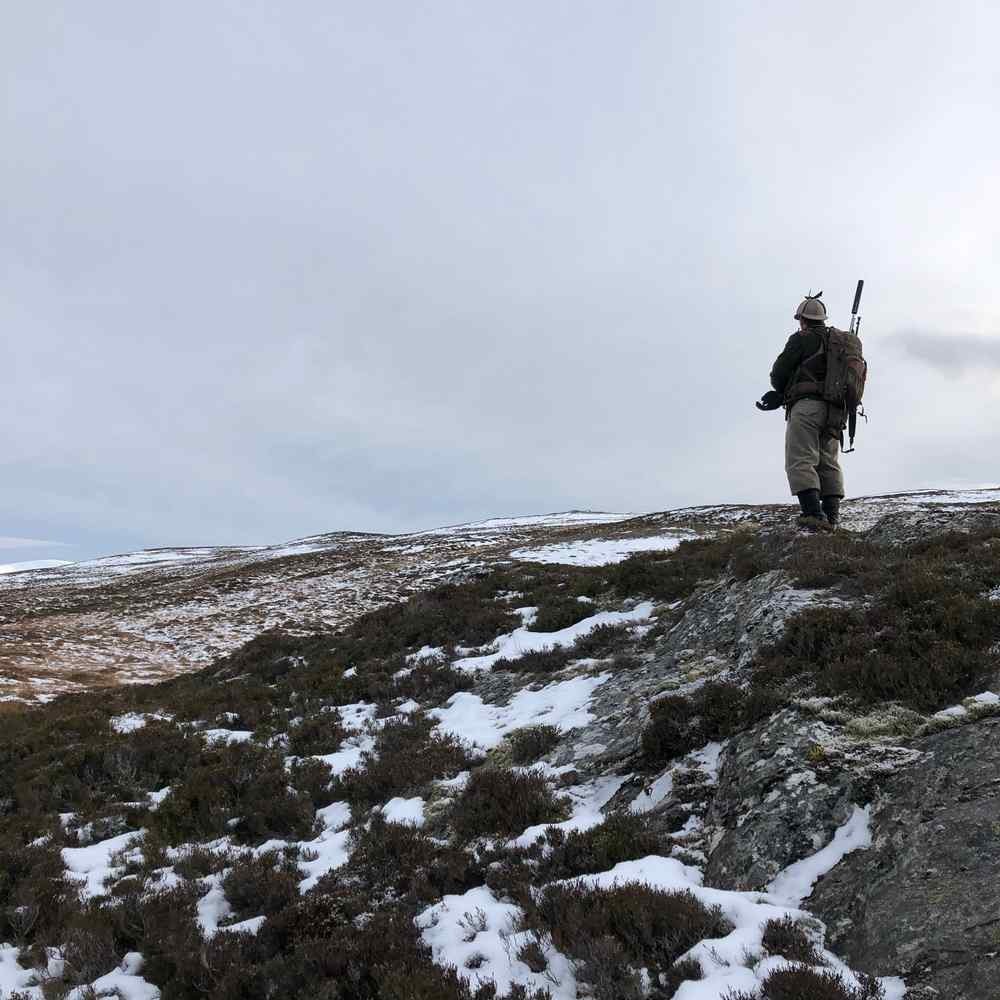 By John Henry
3 months ago
1145 Views
We pick up from last week's part one of John's Red Deer stalking adventure with Sako. After a successful first day lets hear what another day in the hills brought.
(Part one is available by clicking previous blogs at the right of the page)
The next morning, I was paired up with Paul Austin, a professional field sports journalist who has a wealth of knowledge on rifles and all things related. We switched rifles shooting a Sako 85 Carbonlight, in 308 calibre. This rifle is one of my personal favourites, it only weighs 5lbs 10oz and has such a nice feeling. Its carbon fibre stock has a soft touch surface which is great to hold even with cold wet hands.
We met up with David who was our stalker for the day outside the lodge. Because this was the first time shooting this rifle David asked us would we like to fire at a target on his range before heading off onto the hill. For peace of mind knowing the rifle was perfectly zeroed we shot at a 2" target from a prone position at distance of 100 yards. Confident with the rifle, we set off in David's Land rover along a precarious narrow icy track with a steep drop down to the river Tilt, which was flowing powerfully after all the recent rain and was frozen at the edges around the rocks.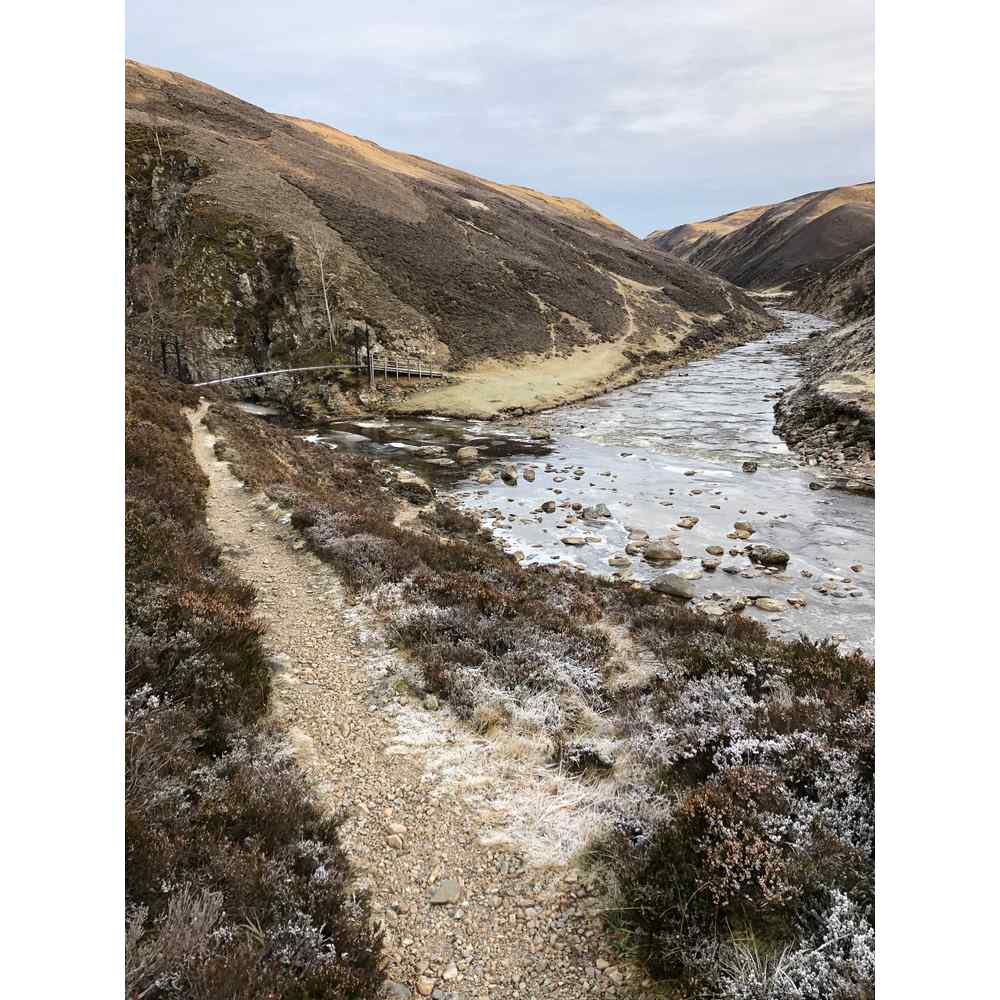 The drive took around 30 minutes to the meeting point where we were introduced to Thomas who was to be our pony handler for the day. Thomas is in charge of the two Highland ponies that the estate still uses to extract the deer from the hill. This is a fantastic tradition that Altholl estates still use where they can. The ponies have special saddles that allow the deer carcasses to be loaded on and carried down off the hill: something the ponies have been specially trained to do for generations. They do less damage to the ground than vehicles such as a Argocat or quad would do and there sure footedness and quiet nature make them perfect for the job.
Setting off from the meeting point we climbed steeply up the first part of the hill. Looking back down seeing the ponies with steam bellowing from their nostrils on the bright, cold, frosty morning was a magical sight. Once we were up high enough on the hill to see a great distance David spotted a herd of deer which was about 800 yards away. We had to descend back down the hill out of sight to try and walk in close enough for a shot. This took some time to achieve because the ground was so rough and undulating unfortunately as we got closer to the deer the wind began to change direction. Little did we know this would be the repeated theme for the day. When we were approximately 300 yards from the herd the deer moved and because of the wind changing direction we figured they must have smelt our scent in the air. Ideally, we were trying to get into a distance of 100-150 yards from them to ensure a clean and efficient shot.
Because the wind was blowing in the wrong direction David suggested it would be best to try on another hill where we could approach with the wind in our faces, blowing our scent away from the area we intended to stalk out onto. Although, this would mean descending the hill we had already climbed and crossing a "tricky river", as he put it, then climbing back up high to spot for deer. As we stood and looked through our binoculars we could see 3 large herds of deer on the hill opposite, this made up our minds that the efforts would be worth the move across.
The "tricky" river crossing was some what of an understatement. The river was set in a deep gorge with fast flowing white water, and littered with car sized boulders poking out covered in a 2" layer of ice. We decided this would be too dangerous to try and cross and instead we carried on upstream looking for a suitable place to get over. Where the river slowed it had frozen over, but it was not quite thick enough to take a person's weight and as we tried to cross the ice began to break and the water was too deep to wade through. We tried to cross five more times before David said that we should just walk on for about 2 miles where the 4 streams meet to make the river and we should be able to cross. These streams were frozen over and just took our weight allowing us to cross, but when we got over to the last and largest stream the ice wasn't thick enough and it was too deep. Exasperated David called Thomas on his 2way radio for his location, he was about 40 minutes behind us with a pair of waders tied onto one of the pony's saddles. David said we could use them to cross over.
We sat on the rocks and ate our packed lunches, looking in the distance for the first sighting of Thomas and the ponies. After any real physical exertion it is important to wrap up warm when you stop for any length of time because you very quickly cool down and can go cold. In my rucksack I always pack a lightweight padded waistcoat as a underlayer and put it on when stopping for lunch it helps to keep your body at a consistent temperature and stop you getting chilled.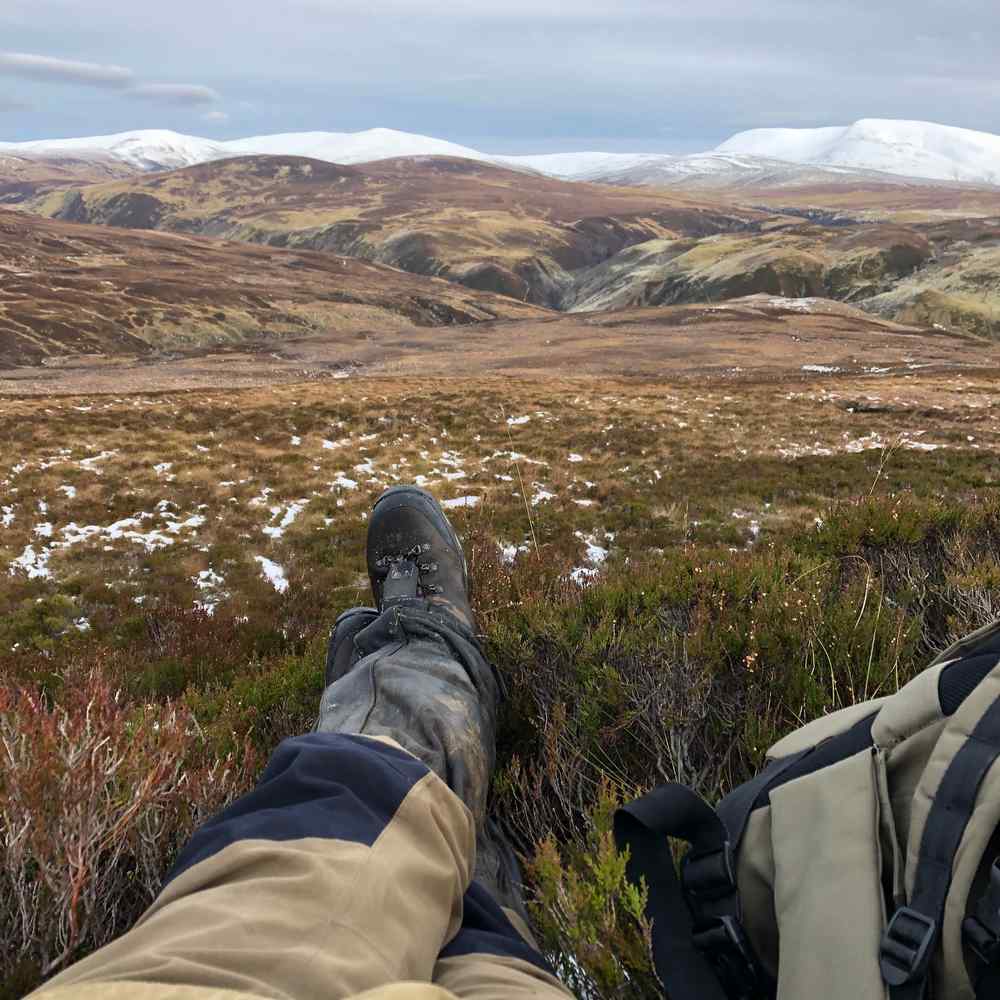 Thomas arrived with the ponies and said he would prefer to get them across in a wider stretch of the river where he knew there wasn't so many large rocks. With just one pair of waders between the four of us this was going to take some time, however David said he would jump onto one of the ponies and ride over. I thought it seemed liked a great option too so climbed abord the second pony. I must say it has been some considerable years since I have sat on a pony and the broadness of the little furry beast did make me wince! I followed David's lead out onto the frozen river as the pony's weight broke through the ice with each step.
After eventually making it safely to the other side it was some time since we spotted the deer from the opposite hill. David thought that the deer would have moved and suggested we needed to climb as quickly as we could up the hill to try and get a good vantage point to give us any chance of getting on to the deer.
We set off up the hill at pace, with Thomas leading the ponies 300 yards behind. Stopping only to catch our breaths and quickly admire the scenery. Looking up the valley the hill tops were covered in snow and the isolated and remoteness of this rugged landscape made me think how vulnerable we would be if one of us took a fall, I mentioned this to David who showed me that all the stalkers have a GPS tracking devices that if required could alert the emergency services. Whilst chatting we could hear the rhythmic beat of helicopters traveling closer, looking down the valley below us we spotted of two Bell-Boeing Osprey twin rotor hybrid helicopter-aeroplanes out on military manoeuvres.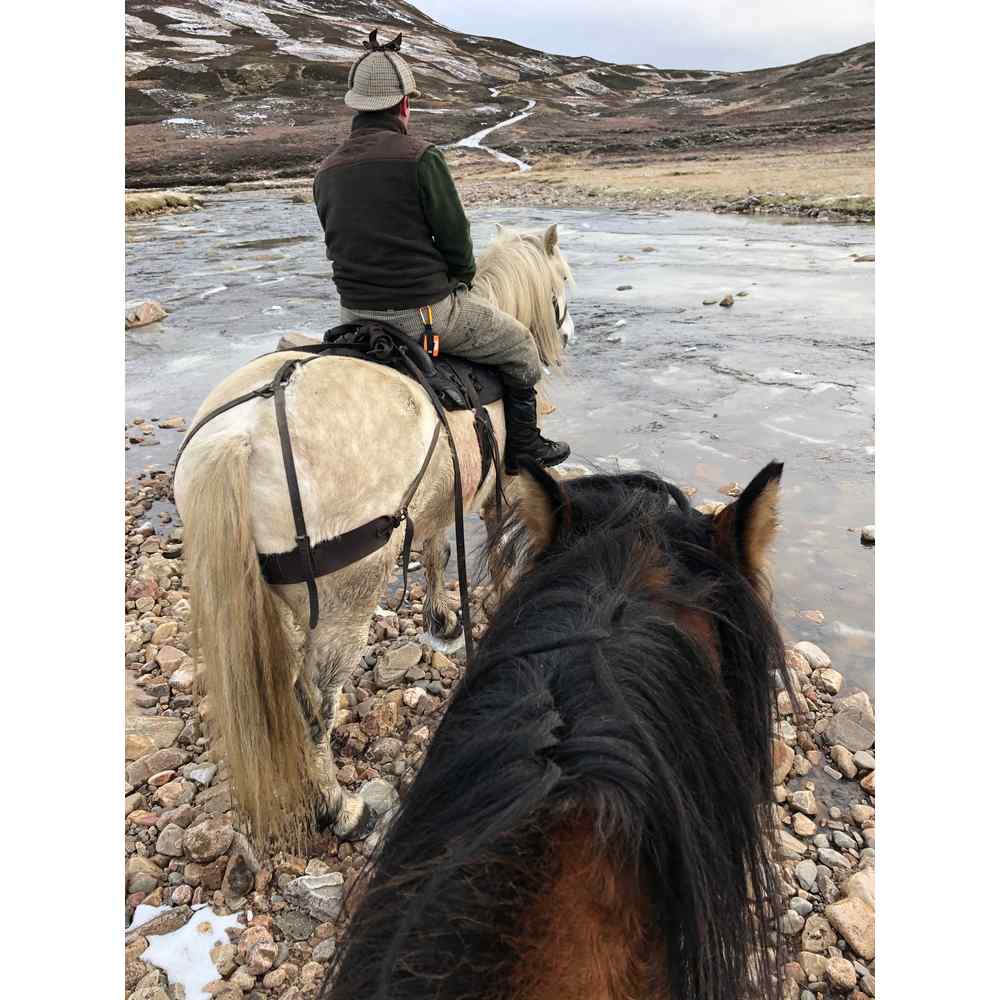 Once we had climbed high enough David started scanning the hill with his binoculars, looking for the smallest sign of a herd. I use Swarovski EL 8x42 with built in range finder, the image quality is second to none and I find the built-in range finder a great help when out stalking. The ranger finder models are heavier, but it saves having to carry a separate unit. The deer are sometimes incredibly well camouflaged against the white and brown grasses of the landscape and it takes an experienced eye to spot the ears poking above a brow, but that's exactly what David spotted!Even after directions from David it took me a good five minutes to see them for myself. David said that the deer would not be alone and it would be difficult to stalk in to a point where we could get a shot. We moved lower down the hill keeping the ridge as cover to get to a position for a shot. Unfortunately we must have spooked them as a heard of deer took off behind the ridge for the second time that day.
Undeterred, we carried on crossing the hill side, although the wind seemed to have changed direction again and was blowing behind us which would mean any deer out in front would scent us. This was very frustrating since we had switched hills to combat the wind earlier, and due to the time of the day we wouldn't have time to move around the peak and try from a different direction. We descended further down the hill to try our best to keep the wind from blowing our scent forward and to get a view of some open ground. David spotted a small heard of 7 deer out in front and said that Paul could possibly get a shot if he kept low enough and crawled forward through the snowy heather. I hung back and hunkered down, I didn't want to create extra noise or movement and spoil Paul's chances. As I watched them crawl forward I hoped that all our efforts would be rewarded with a deer. For me being out in the magnificent landscape, climbing the hills and riding the pony across the frozen river would be memories that would last forever. Sadly, again the wind was not in our favour and Paul didn't manage to get a shot. They crawled to the brow and looked down on them to see the deer were already moving.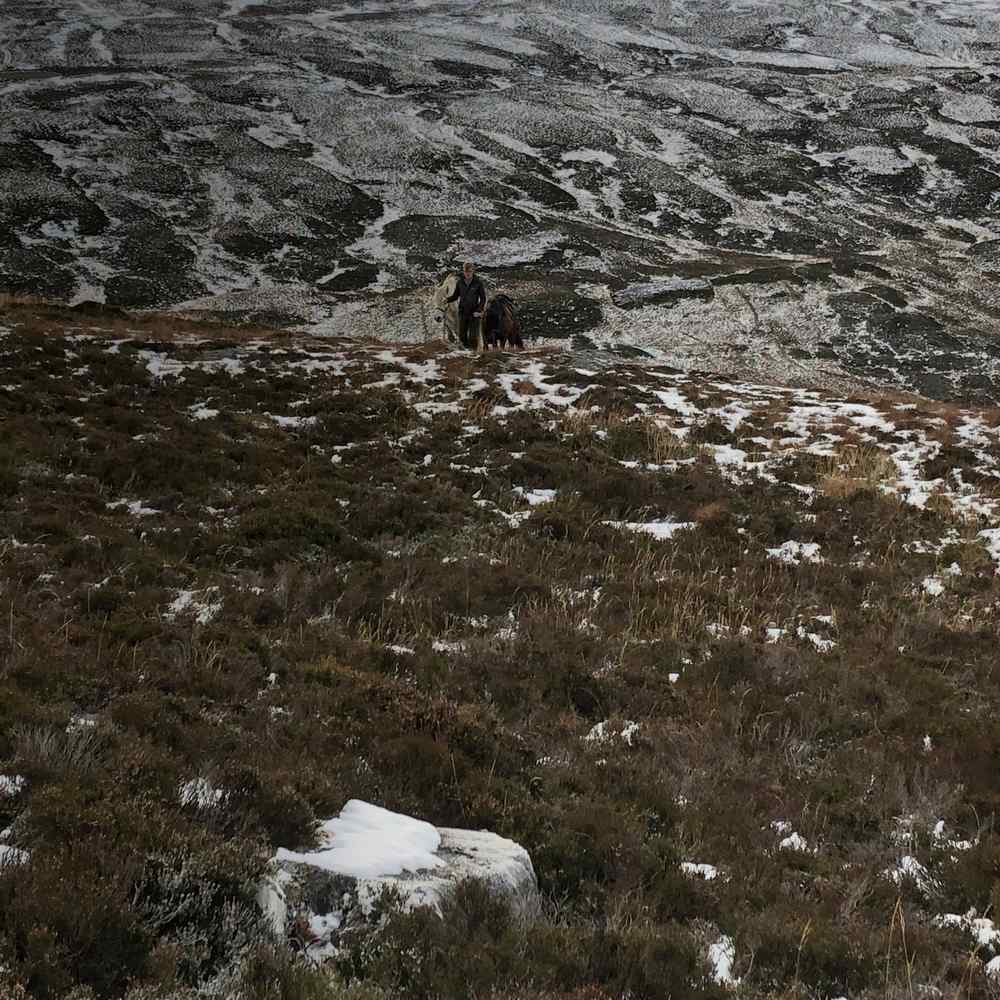 The daylight was beginning to disappear so, we decided to call it a day and headed back down the hill to the where we had started from. I hadn't noticed that Thomas was not followed us until we were back in the Land Rover and returning along the treacherous narrow track, there was Thomas sat waiting for us with no ponies, just their saddles. He jumped in and I asked him were the ponies where. He replied that "I just let them go". Then as we drove around a bend the two ponies were trotting along the track by themselves. They knew their own way back to the lodge and knew when they got back, they would have some hard feed waiting for them in the stables.
During the afternoon on the hill I had sensed the frustration and disappointment in David, that despite his best efforts we hadn't managed to bag a red deer. All day mother nature had prevented us getting in range, with the wind constantly changing direction. If the river hadn't been frozen, we maybe would have crossed easier and moved to the other hill more quickly before the wind changed again in the afternoon. Getting a shot or even seeing deer out stalking is not guaranteed and I suppose that is part of the challenge for me.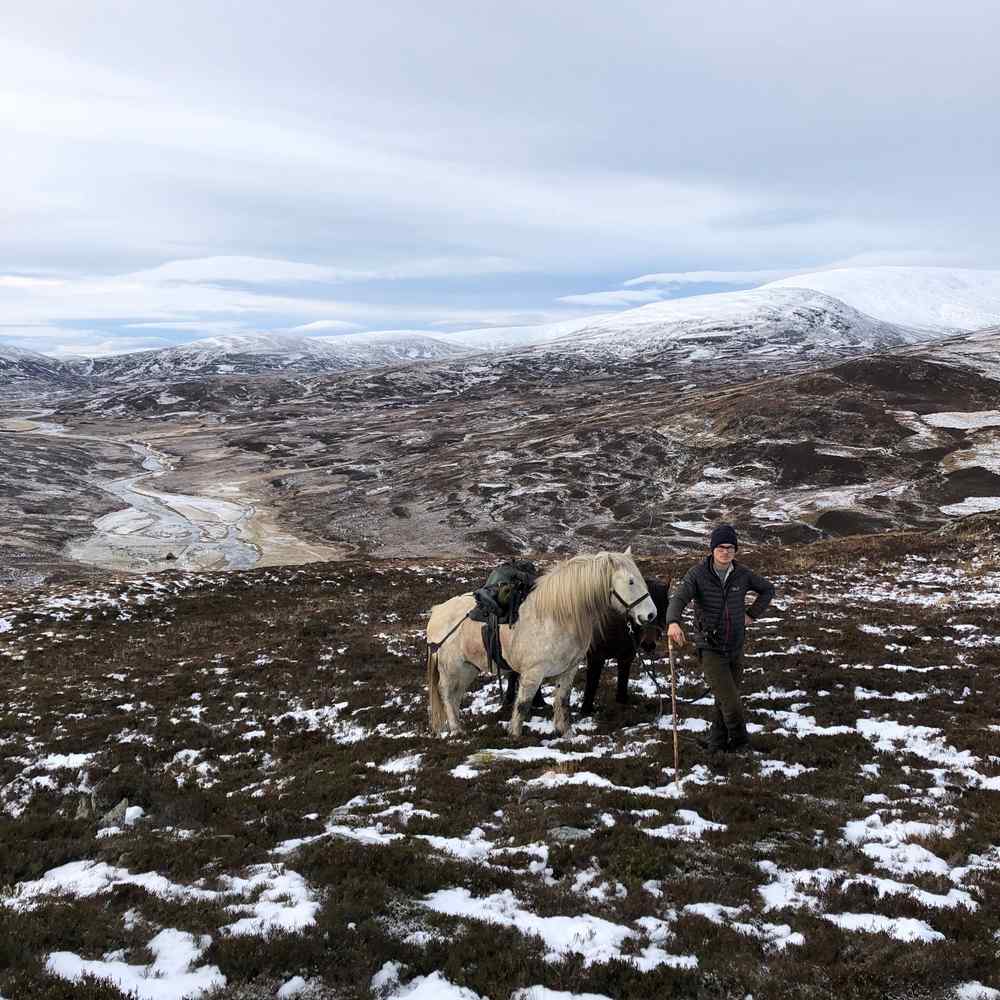 Sitting down at dinner in Forest Lodge that night after a warm shower there was a great feeling of comradery between our little group and hearing the other stories of their day in the hills. Even though Paul and I never got a deer I think we both had an immense feeling of achievement after hiking so far and climbing so high, we gave everything we had that day but it was not to be. Despite not getting a deer on the second day, it hasn't dampened my sprits to go hill stalking again. Instead it has energised me to get back out there, after all it is the whole experience not just the pulling of the trigger. I would like to thank GMK and Sako for inviting and hosting a fantastic few days away. It was a great experience I would love to repeat.