Swipe to the left
Highland Stalking Part 1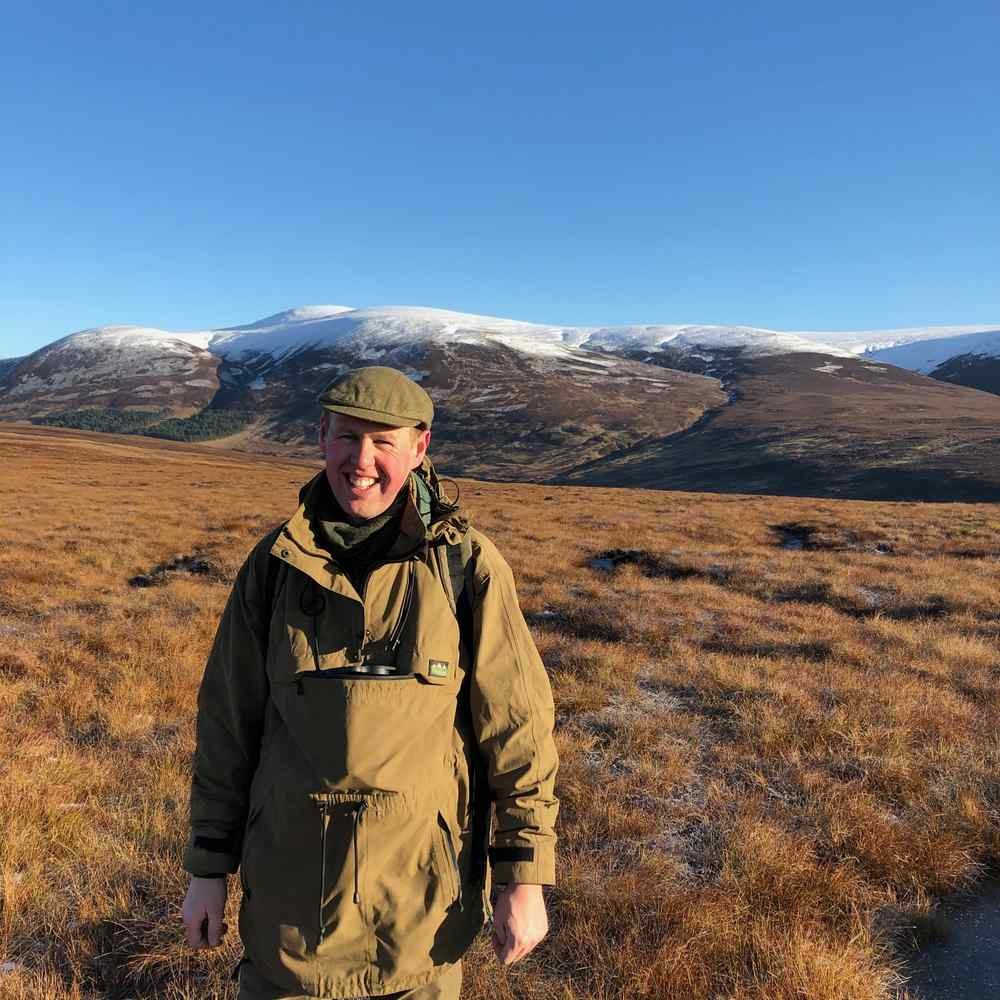 By William Mole
3 months ago
1430 Views
Back in September GMK LTD (Sako UK importers) asked John if he would like to join them on a trip to Scotland stalking Red deer at Blair Atholl. Naturally he jumped at the opportunity after completing his DSC1 (deer stalking certificate) earlier this year after having caught "the bug".
After helping Jason set up the Sunday Sport Trap competition at the ground, I set off for Blair Atholl which is an easy 3 ½ hour drive. Our meeting place was pre-arranged and like all good trips our rendezvous was at a pub mainly because the lodge was off the beaten track. After turning off the main road onto a gravel estate road we began to climb, twisting and turning for over 30 minutes. Forest Lodge appeared out of the darkness settled in a steep valley with the river Tilt running alongside. We were greeted by Carol our host and cook for the stay. Forest Lodge is a large 11-bedroom house with a lovely traditional feel. Before dinner we relaxed in the large drawing room, with an open fire creating warmth and atmosphere, then headed through to the dining room to a wonderful three course meal with Venison fillet as the main dish.
Altholl estates covers a whopping total of 143,000 acres, 78,000 acres of which is deer forest employing 11 gamekeeping staff. The estate is set in the county of Perthshire and its history dates back to the 13th century. Like all successful estates, Altholl has had to move with the times and receives income from tourism, renewable energy, forestry, agriculture and letting some 284 properties.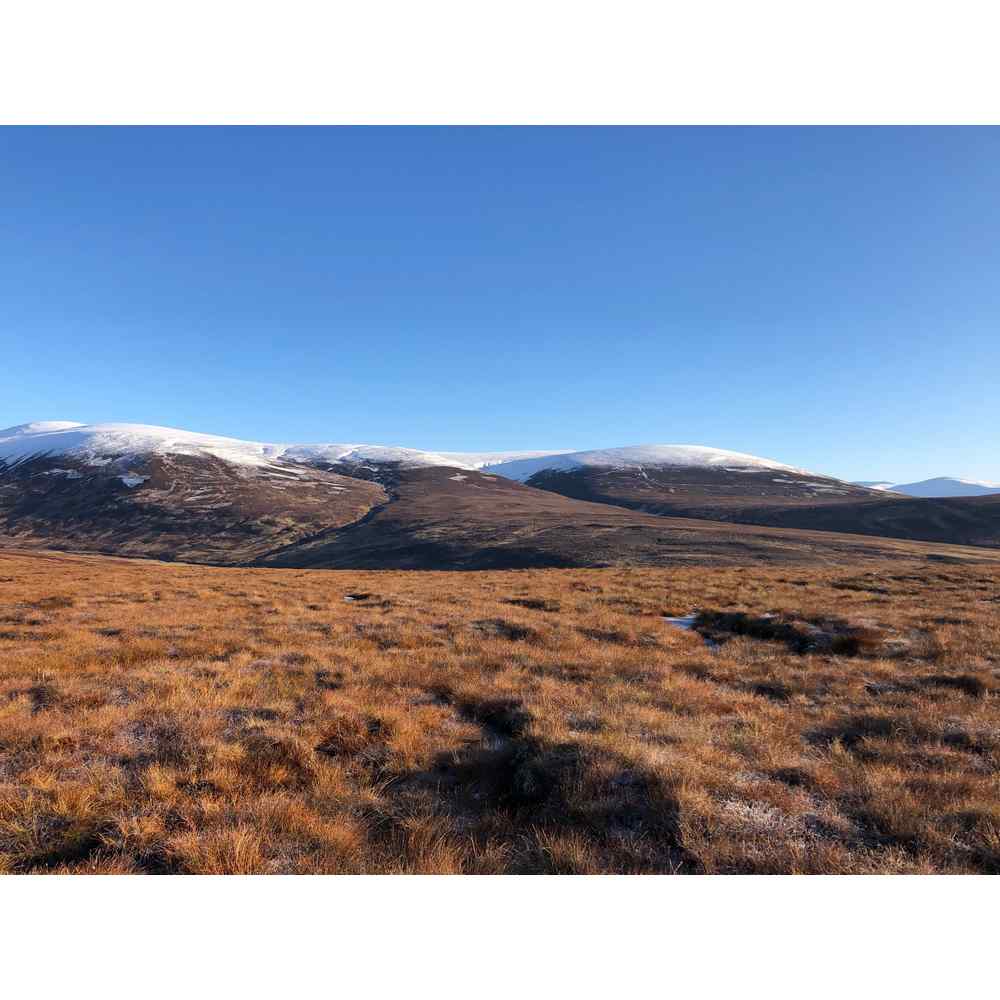 The following morning began with a full Scottish breakfast provided by Carol, with packed lunches also prepared for the day ahead on the hill. We paired up to go out with a stalker and a gillie from Atholl estates on separated beats sharing of course a Sako rifle and ammunition.The party consisted of 9 stalkers split into 5 groups covering the estate over two days.Some of the group was greeted at the lodge by their stalkers for the day, Andy and I set off back down the track to meet our gillie David, who drove us to our beat and to meet Dominic our stalker for the day.
One essential procedure before heading off into the hills stalking is to demonstrate our rifle is zeroed. Our rifle for the day was a Sako Finnlight 2, its one from their range of lighter weight rifles making it perfect for hill stalking. It weights 5lbs 6oz , has a Cerakoted fluted 20" barrel and a synthetic stock with rubberised grips and adjustable comb. It was fitted with a Stalon victor sound moderator which at just 325grams is light weight sound moderator. The scope was a Steiner H4Xi in 4-16 x 56 this scope is also well suited, with 90% light transmission and parallax adjustment. The ammunition was Sako 308 in 123grain gamehead, which is a soft point perfect for deer.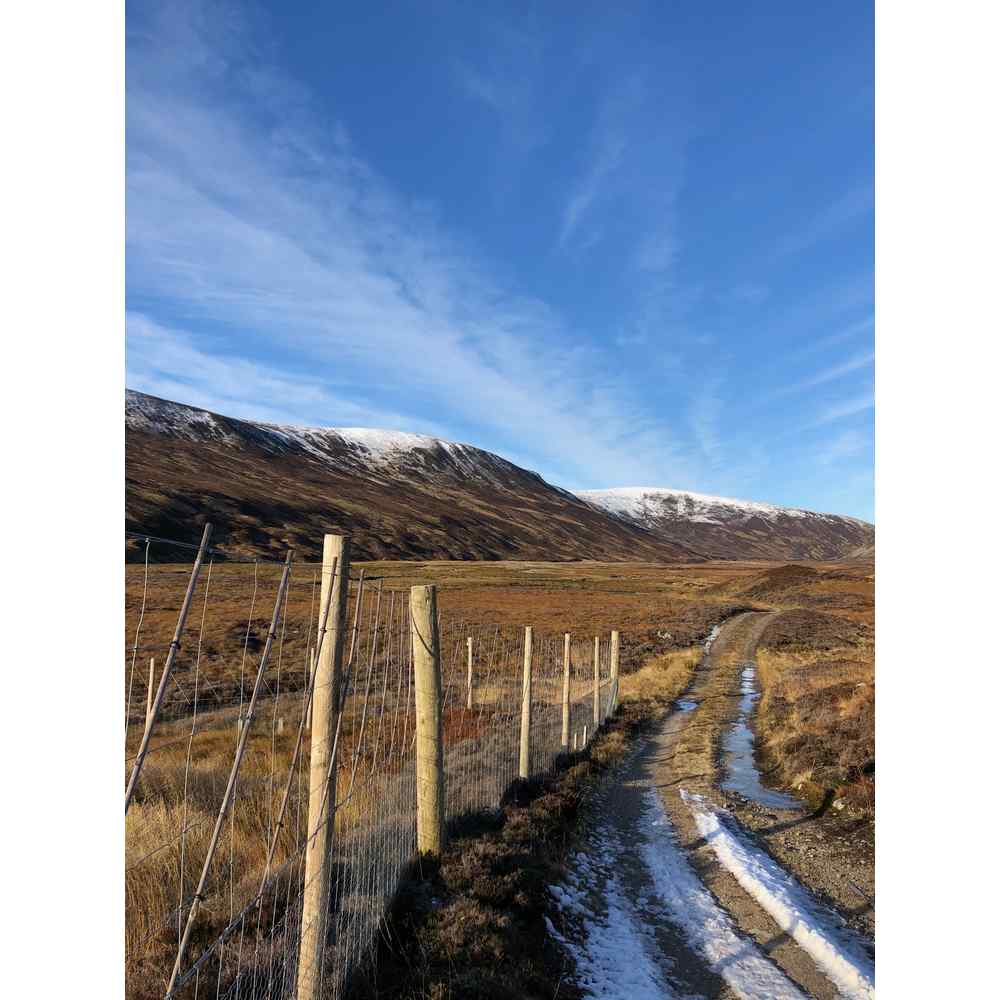 Dominic took us to his simple range just outside his cottage, where we both shot from a prone position at a 2" target of 100 yards. This is always a nerve-racking job, but especially so when you have two experienced stalkers watching on! Luckily the Finnlight was bang on and grouped tightly inside the 2" target. I personally, like a rifle with a lighter trigger and found the Sako very easy to shoot.
We set off onto the hill and it was quickly apparent that even though Dominic was elder in years he was certainly extremely fit and chatted away as we began to ascend the hill: I must admit I was struggling to hold a conversation and breathe at the same time! The hill rose gradually and the terrain was rough white grasses with patches of heather and an occasional drainage ditch to jump across. I crossed these ditches feeling like Dumbo the flying elephant with arms failing, whilst Dominic just stepped over without even taking his hands out of his pockets. We stopped regularly to try and spot deer out on the undulating hill ground and after a while came across a small heard of red deer happily couched down in the morning sun. However, getting to them would prove difficult as the ground was open and would expose us. Instead we decide to push on to another corrie where David had seen deer. Unfortunately, this also proved fruitless as we got close to their location they either winded us, or had seen a movement on the skyline and dispersed. Deer have an unbelievable sense of smell. To give you the figures: humans have 5 million scent receptors, dogs have 220 million scent receptors, and deer have 297 million. I suppose that is why they have been around 12 million years!
At this point, we decided to break for lunch and headed down to the pick up and moved onto another vantage point to enjoy whilst we ate our packed lunches in stunning surroundings. Whilst eating our lunch Dominic spotted a good number of red deer laid up on the side of a hill. These were a long distance off and it would take most of the afternoon to climb up the steep sides of the valley and traverse along the top keepingthe wind in our faces so the deer didn't wind us. So after lunch we headed off on the difficult climb. Not only was it steep the heather was thick and as we climbed higher snow was lying.
After 1 hour and 40 minutes, we were close enough to the get the Sako out of the slip and crawl to the steep edge of the hill. Dominic crawled in front with the Finnlight in hand and instructed me to get down in the snow and follow closely. We had to keep low because if the deer saw our heads above the horizon they would have been off! Looking down over the steep edge, some of the herd were quite happily couched down and the young staggies grazing in the rough grass. Dominic seen a yeld hind he wanted to be shot. A yeld hind is a female deer who hasn't produced a calf that year. Dominic's years of experience helps him spot the signs, usually they are in better condition than the other hinds in the herd because they have not had to produce milk to feed a calf.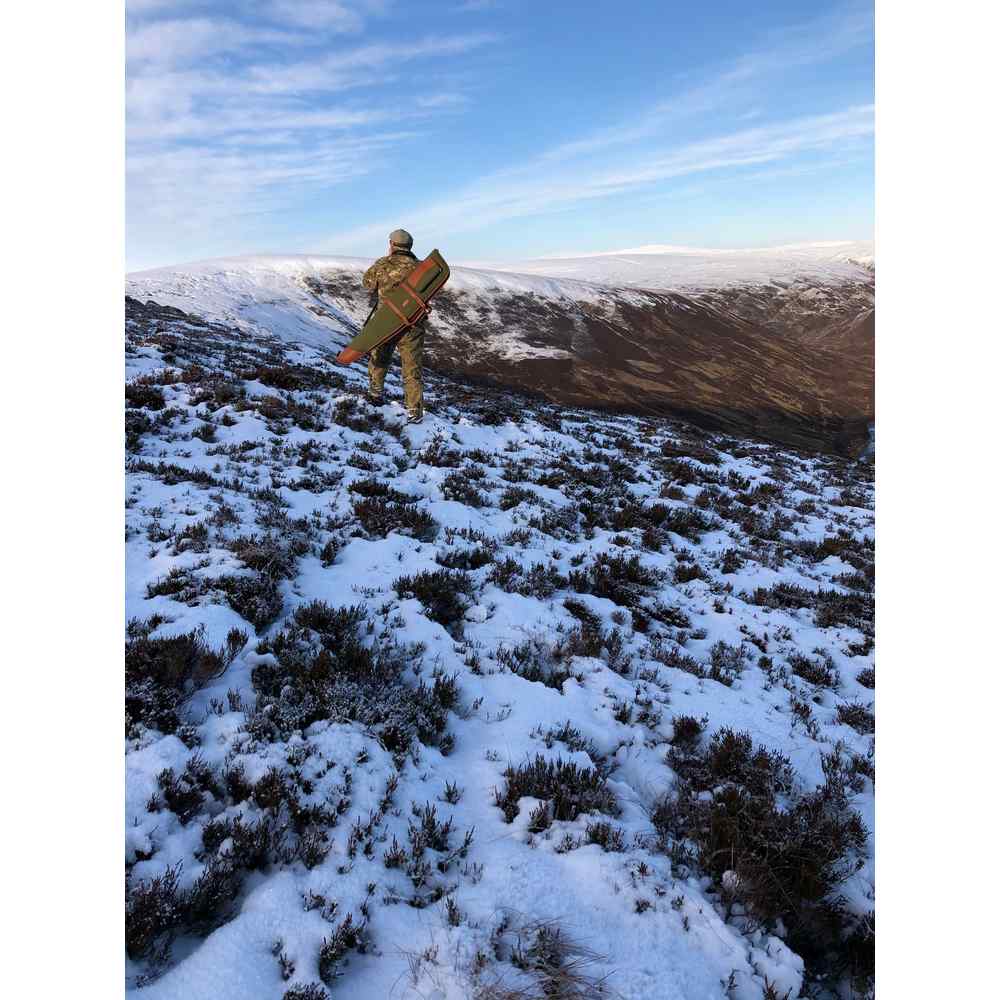 Dominic range found the hind at 136 meters, well within range of the 308. Lying in the snow my hands were wet and beginning to go numb, luckily the Finnlight has rubberised grips which really helps. A young staggie walked too closely past the hind and she stood up in annoyance, now was my chance to fire. I pulled the trigger and Dominic lent over and shook my hand: my first red deer.
Having spotted another herd of deer in the distance, we carried on walking along the ridge of the hill. This time, it was my partner Andy's turn for the shot. My tiredness from the earlier climb had all gone thanks to the adrenalin after my stalk and shot.Once again, we reached the point of the stalk to look over the edge at the herd below, but as Dominic and Andy crawled to the edge something must have spooked the deer and they took off. With the light starting to fade, Dominic wanted us to get a stride on along the ridge top in case there were more deer at the far end of the hill that we couldn't see. Unfortunately, when we got to the far end the wind changed direction blowing our sent forward and as we walked on a large herd of deer took off 400-500 yards away. Sadly, now the light was gone and our day was done, so we headed down to the track where David was waiting for us in the pickup.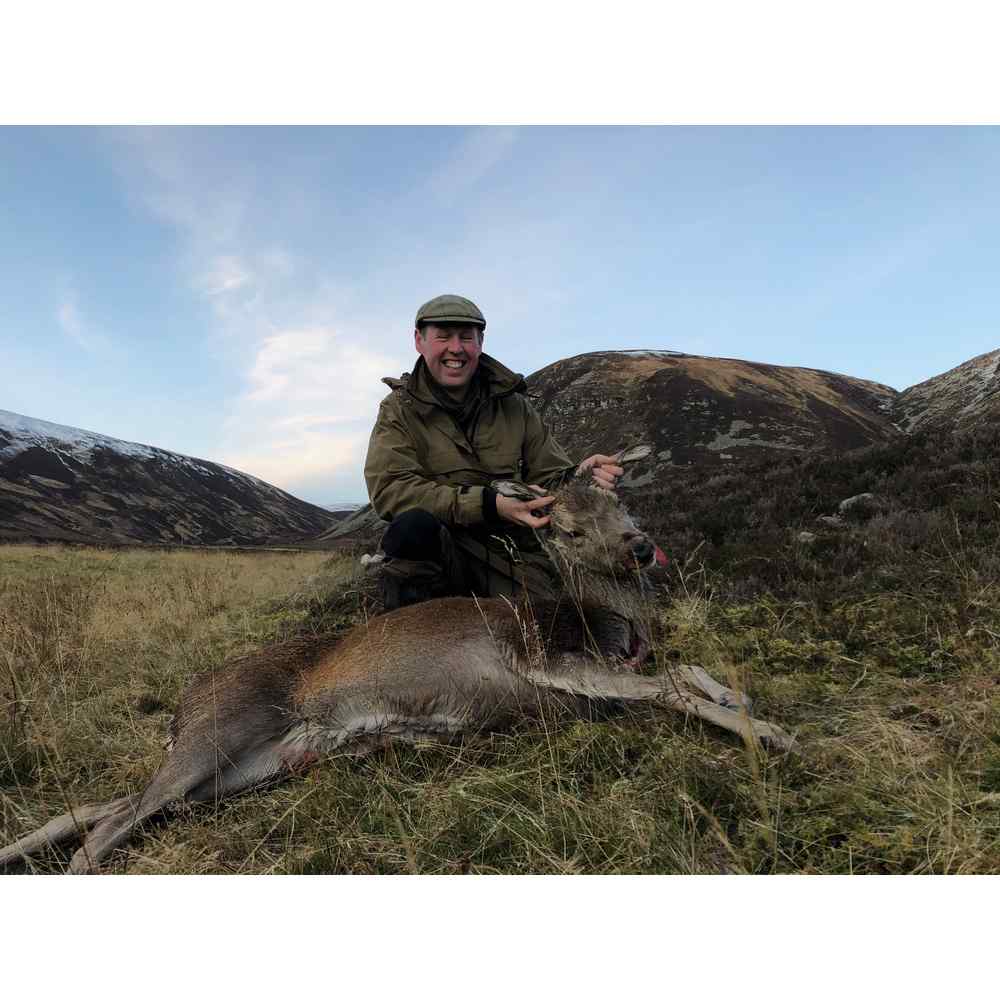 We drove back along the track to where David had previously gralloched the deer and dragged her down to the track. I of course wanted the obligatory picture with my first red deer then helped David lift her into the back of the pickup. Red deer are a lot bigger than what I am normally used to, the coat is a lot thicker and greasier than the roe deer that I have previously handled. David then took us to the estates own game larder; it was great to see such a modern and well-equipped facility designed especially for the handling of deer. David weighed the carcass (56kg) and tagged it with further information on when and where it was shot. The deer then hangs in the chiller ready for the game dealer to collect, along with others that had been shot that day from other parts of the estate.
That night around the dinner table at the lodge the day's stalking stories were the main topic of conversation, along with our fitness levels against the levels of the professional stalkers. I would say that without a reasonable fitness level the day might not have been enjoyed to its fullest and good boots certainly could make or break a day hill stalking. I used the Zamberlan Pro Hunter GTX, which are a tall lace up leather boot with Vibram soles.Hill walking or stalking favours the tall style boots because they give great ankle support and I find them easier to walk in especially when the ground is rougher. I also always wear gaiters with the boots for wet and muddy conditions, whilst walking through heather they help to stop the laces being pulled. The Harkilla Angus gaiters I use are more expensive than most being full nubuck leather, but I have had them for quite a few years now and have found them more durable than others.
That night I closed my eyes in the peaceful Forest Lodge, after my successful (if somewhat strenuous) 1st day red deer stalking, I couldn't wait to see what another day in the hills would bring.
Join us again next week for part two of John's Scottish Red deer stalking adventure with Sako.