Swipe to the left
Gone Fishing....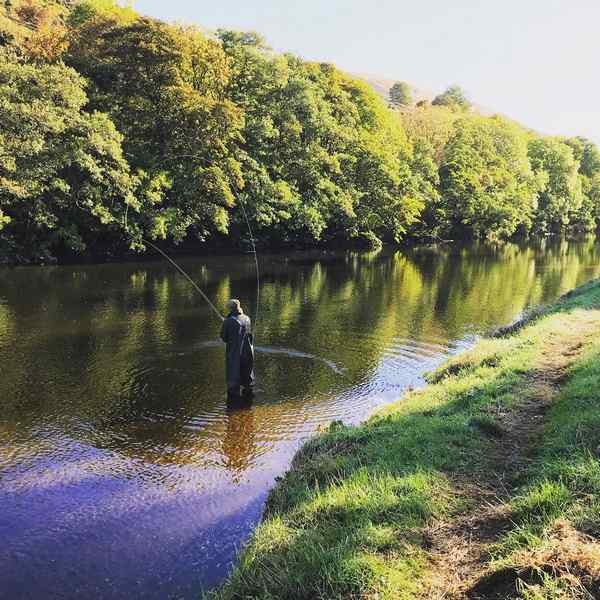 By John Henry
10 months ago
702 Views
Fishing is a country pursuit that I have always wanted to try, but never until recently managed to find the time to give it a go. For my birthday this year my girlfriend Emily bought me a half-day salmon fishing on the Tweed, this gave me the perfect opportunity to try the sport.

Living not far from the river Coquet, which is a well-known local river for brown trout, sea trout and salmon, I have often heard friends talking of successful afternoons fishing. This is something I had always had on my agenda to try but never got around to giving it a go, it also seemed inaccessible for a novice to try without buying equipment first.
Earlier this year in June, I was lucky enough to be given a half-day salmon fishing on the famous Tweed for my birthday. The day was fully inclusive of all equipment I would need and crucially, having never held a fishing rod, professional instruction. June is a busy time of the year on the shooting ground and this year's harvest was very early on the farm. I decided to book up for September, after the busy period.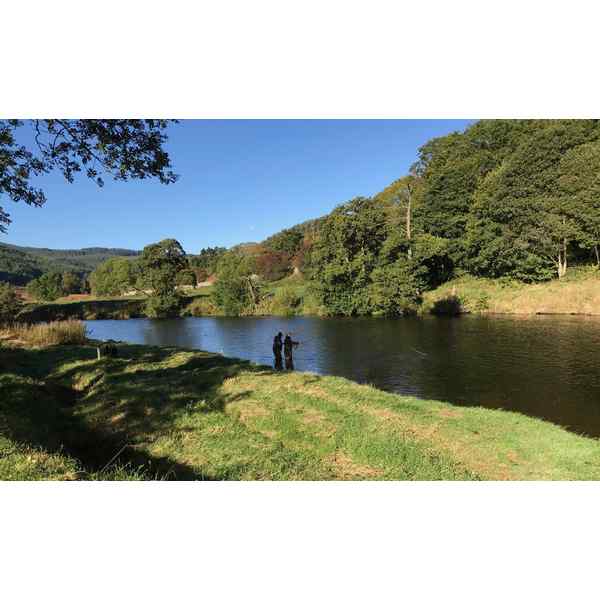 I was also told that later in the year is a prime time to go salmon fishing because this season there is more water and this is when they start to run, making it more likely to catch. Wild Salmon (Salmo Salar) hatch in the river in spring, they remain in the river for about three years when they swim out to sea. The salmon live out in the sea for up to four years and travel great distances to find feeding grounds, before returning to the river of birth to reproduce. One myth that I thought was true with salmon fishing is that you are trying to tempt the fish with bait to eat, but once the salmon have return into the river they do not feed. No-one exactly knows what attracts the fish to the fly on the end of the line, some say it could be the salmon being inquisitive or annoyed by the fly.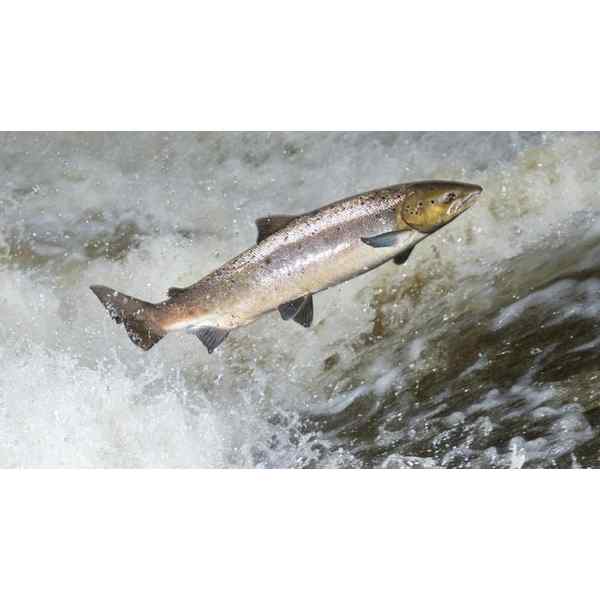 The sunny September morning came and we packed the car with the usual provisions you would expect to take on a day's game shooting; lunch being the most important. The journey up took about 1 1/2 hours, although it is a picturesque drive up the A697 then across over to Galashields. I met my instructor and gillie Dave, in an easy to find pub car park and then followed him a few miles to the Ashiestiel Estate.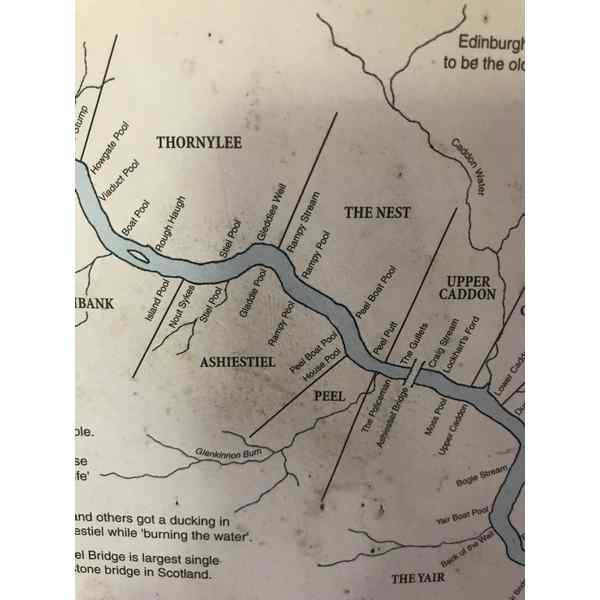 The Ashiestiel estate is an 863-acre country estate with 1 ¾ miles of fishing on the Tweed. The estate is known for once being home to the famous Scottish novelist Sir Walter Scott, from 1804 to 1812, before he moved a short distance down river to Abbotsford.
Once at the fishing bothy on the banks of the river Dave kitted me out with waders, it was quite a fresh morning so I decided to wrap up with a Harkila under layer and my Schoffel lightweight Ketton jacket. Eye and head protection are also a must for fly fishing with dangerous hooks flying through the air, this was also provided by tweed guide.
Dave ran through the basics on the bankside on how to hold the double handed 15 foot fly rod, then suggested we wade out into the river and he would demonstrate the Spey cast technique. We waded out to a depth of 18-24" and immediately I quickly realised how cold the water was and now I suggest warm socks for fly fishing! The footing was also something I had previously not thought of. It was quite difficult to walk in the albeit slow current with the round rocks difficult to judge as you make your way out, and I was conscious of falling face first in the icy cold water!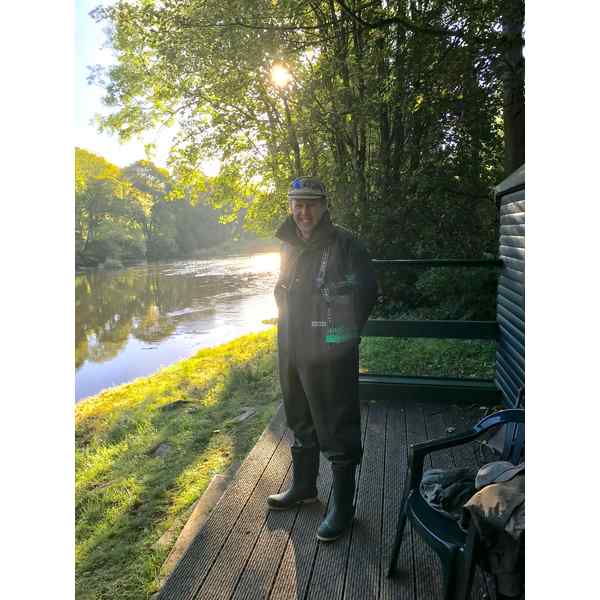 Like all pro's, Dave took his time to demonstrate the spay cast, he made it look effortless with a certain accuracy and landed the fly exactly where he wanted it. The fly rod is long and flexible, with a reel attached holding a weighted floating line, on the end is a small light hand tied fly with a small hook. When it came to my turn Dave was very patience and showed me exactly how to stand, hold the rod and cast the line across the river. He also gave me an etiquette lesson on fishing, on thing I did not realise is that after every cast it's good manners to take a step or two downstream, this is because you are fishing a stretch of the river and other fishermen will often be following you down a certain pool, once you get to the end of the pool you then climb out and walk back along the bank to where you started.
I picked up the basics and started fishing and stepping down steam with every cast, Dave retired to the bank and left me to it with the occasional pointer on my technique. Fish were jumping all around my fly and I felt as though they were simply teasing me as I continued to fish with no success, I even seen a huge silvery salmon jump from the water 5 foot from my fly. Emily meanwhile had found a sunny spot on the bank where she sat with a coffee intermittently reading between giving a rather infuriating commentary of all the fish that kept on jumping all around me! After getting to grips with the Spey cast, Dave returned to the river to show me another cast: The Snake roll. The Snake roll cast was more difficult but with persistence I picked it up.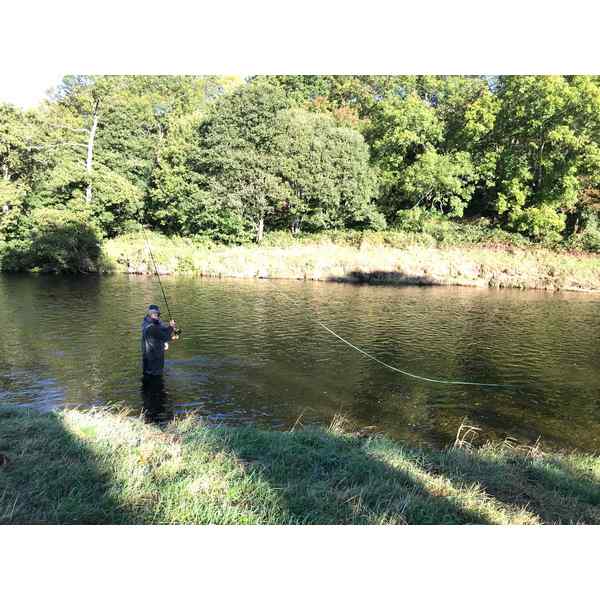 I fished for about two hours straight with no luck, until I thought I had snagged my hook on a leaf. To my surprise the leaf turned out to be a salmon! It was true it was a salmon but only a Parr, being a 2-3 year-old fish which was yet to go out into the sea. With the help of Dave, I hurriedly released the tiny creature before Emily could get an embarrassing photo of my minuscule catch. I fished on for another hour or so, again with the ripples of jumping fish around me but no luck. After 3 hours of solid fishing I decided to pack up for lunch and headed back to the fishing bothy for our picnic. There I met a man on another pool who had caught a fish that morning after three days of fishing!
I thoroughly enjoyed my morning fishing on the Tweed and would love to go again, though I do think it's not just about catching that elusive fish, the peace and quiet, the thrill of making a great cast across the river and of course being in the beautiful countryside combines to make great sporting day out.
For more information on having a go fishing follow the link to Tweed Guide