Swipe to the left
Custom gun fit... The two experiences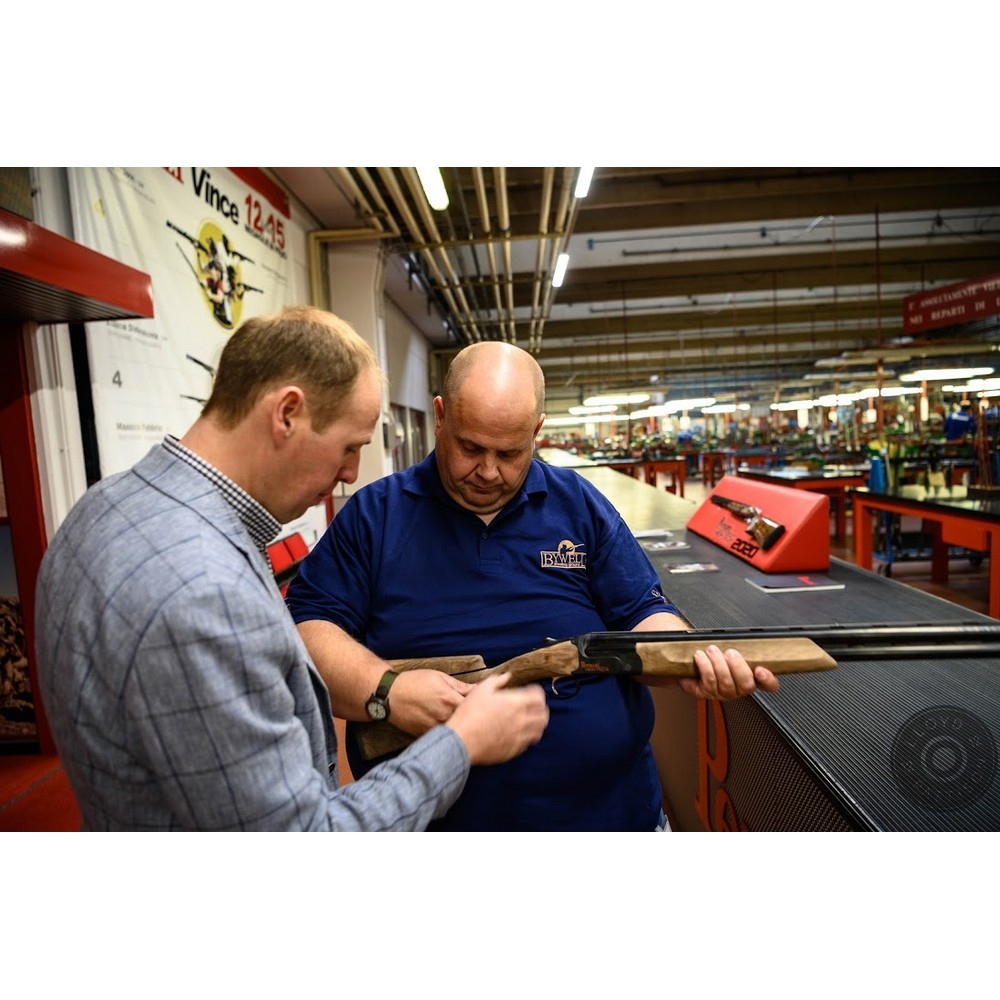 By Steven Raine
2 months ago
1554 Views
My name is Steven Raine and I'm a regular shooter at Bywell Shooting Ground. I have been very fortunate to have experienced having both Perazzi and Beretta Custom guns built for myself. A lot of shooters have asked me about the differences between the two manufacturers. During this blog I will give you a small insight into both journeys, whilst explaining what goes on and the processes involved in both factories.
It all begins when you decide you want to create your own gun which is custom fitted to you. Having decided which manufacturer being either Beretta or Perazzi you want to go for John and Paul then begin to build a file of what you want in your ideal gun.
Firstly you need to decide what gun you wish to have custom built, and it my case it was a Beretta DT11 L Grade. The gun I was currently shooting at the time was a Beretta 692 sport, but I wanted to upgrade my gun to something that handled and felt even better whilst staying with the Beretta brand. A vast part of the process is carried out at Bywell before you even think of visiting the factory. John and Paul took a good look at my Beretta 692 and recorded various measurements off the gun. This gives you a good guide for what you have currently and what may require altering for your next gun. All this preparation is key for when you get over to the factory in Italy. We then patterned the Beretta 692 to see how these dimensions were performing and took various photographs of the pattern. All this information is then placed in your personal file for reference.
The next exciting stage is when John begins to plan the trip. This includes booking the flights, hotel, car hire and even organizing the whole itinerary for times and travelling. Everything was set for the factory visit, and I couldn't wait!
We set off out at the beginning of April 2017 from Manchester flying to Milan Bergamo. Once in Italy it's a further 40 minute drive to the hotel, and once checked in decided it was time for a quick bite to eat before retiring to bed. The next morning after a hearty Italian Breakfast we set off to Gardone val Trompia, the home of Beretta. The factory of Beretta is split into two parts in Gardone. Beretta One is where the family villa is located along with production facilities for the 680, 690, series etc and semi auto shotguns as well as the defense firearms and pistols. Beretta two is where all the custom and premium guns are manufactured.
We arrived at Beretta two and after signing in and presenting our passports headed to reception. We were warmly greeted by both Claudio Ravagnani and Marco who was my stocker for the day.
Marco began by setting up a standard DT 11 try gun to dimensions he believed to be somewhere near what I required, just by eye. The gun was passed to me and after several dry mounts with Marco's expert eye of assessment the gun is then passed back to him for further adjustment. The gun goes back and forward several times until we are both happy of the gun fit.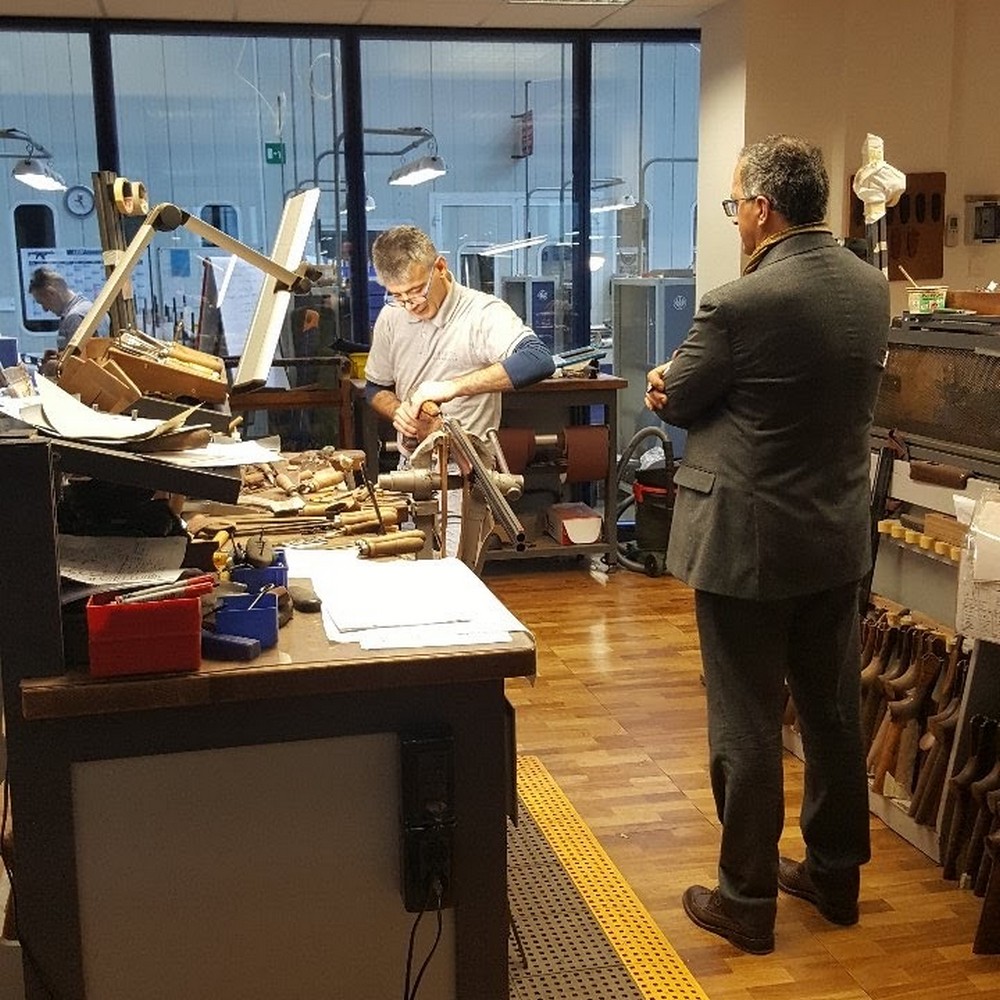 After this its then off to the pattern plate tunnel to shoot the newly adjusted try gun. I was hoping to achieve a 50/50 pattern, similar to what we had seen back at Bywell. The stocker is with you throughout the pattern testing process, just in case any small adjustments are required. After several shots we were all happy with the pattern and the gun is handed back to the stocker who then takes these final measurements off the try gun. These all important dimensions will be used for the basis of making your custom stock. The next part is probably the most exciting bit of the trip, going off to the wood room where a vast selection of Walnut blanks await.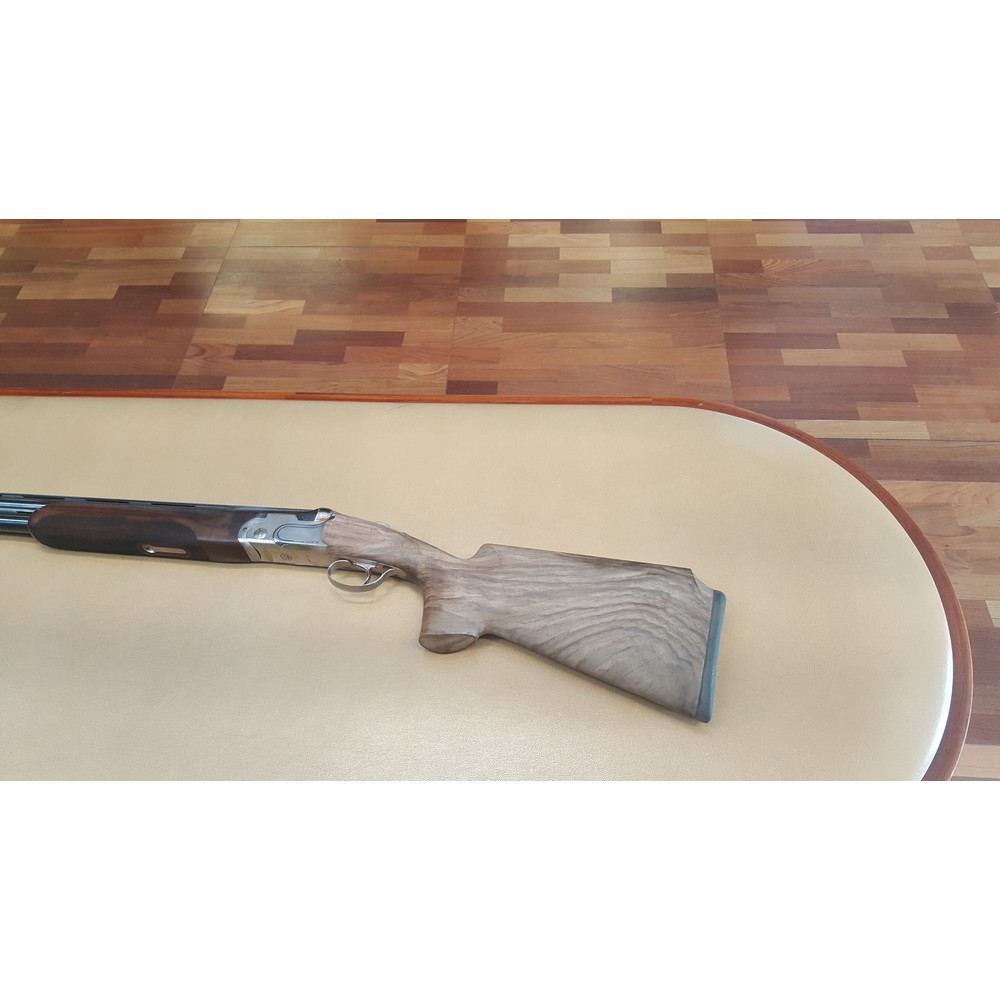 Beretta have five basic wood grades and as I was getting a DT11 L grade it was the grade three I would be selecting from.Upgrading your wood is possible but this is at an additional cost. After careful consideration and with John's expert eye for wood I selected my blank for the stock. It then started its journey to be machined. With plenty time we went up to visit Beretta One, with John having kindly organised us a tour of both the Beretta Family Private Collection and the production facilities. After the tour we decided to go for a light lunch and before you know it we were back to Beretta for 2.00pm to see how the stock was getting on. The stock was in the white (i.e. no checkering or finish etc) and was on the DT11 try gun ready to pattern test. We then headed to the pattern tunnel to see how the roughed out stock performed compared to the fully adjustable try stock. After some shots and small adjustments by the stocker everything was perfect. The next important thing is selecting a forend style which for me a Beavertail seemed most suitable with a large comfortable grip. This was us all finished at the factory with us flying home the following evening.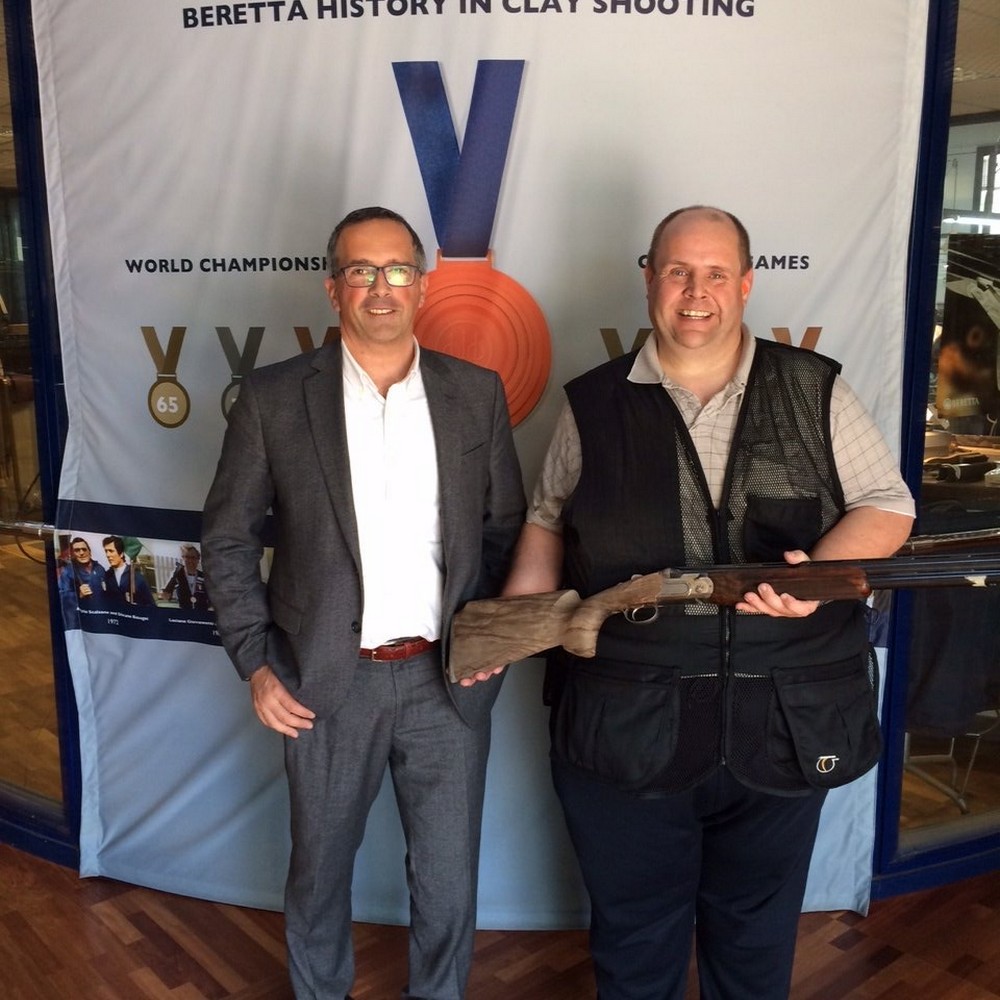 The next bit is the hard bit, the waiting game. From visiting the factory to the gun to arrive at Bywell is approximately 12 weeks with the woodwork undergoing numerous oiling and checkering processes. When the gun di finally arrived I was very happy with the finished product.
In spring of 2019 I decided that I wanted a trap gun and although a Beretta fan unfortunately they didn't do a DT11 trap gun with 32" fixed choke barrels. That led me to ordering a Perazzi High Tech trap gun.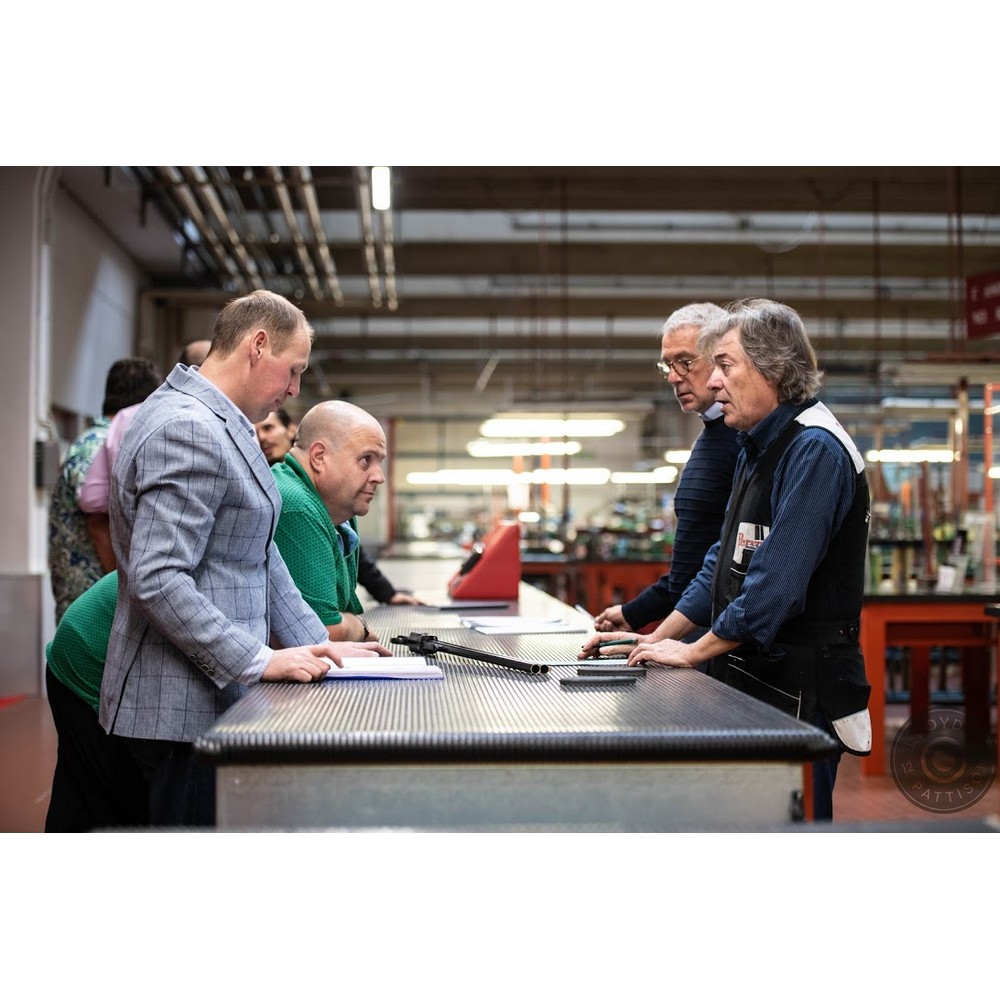 So the initial process is basically the same as we went through with the Beretta DT11 L grade but with Perazzi you have a lot more options to select from. You can choose the whole specification from things like bore dimensions, rib style, monoblock type, choke all the way down to the bead on the end of the barrel. I went for the standard 18.5 bore with a reverse tapered rib which gives you a parallel sight picture that I liked. All of these selections are done at Bywell before you visit the factory after looking at numerous examples on their gun racks.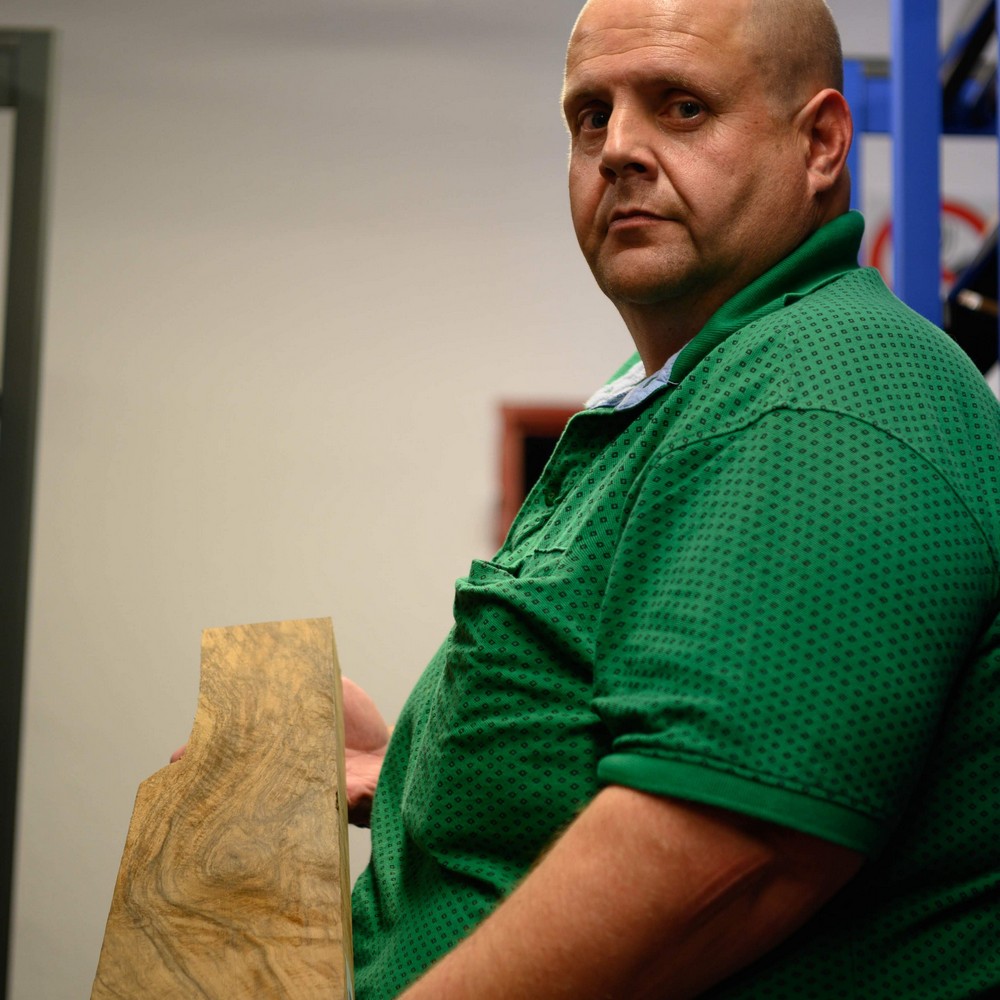 So, in October 2019 It was time for my Perazzi trip with John back to Italy. There was four of us going for custom guns myself and three other customers. We flew out early on the Tuesday morning and arrived just before lunch giving us plenty time. After landing we drove to Rezzato which is near the Perazzi factory and had some lunch before heading across for 2.00 pm. We walked through the showroom and then into the main factory where we were warmly welcomed by Fabrizo Salvini and on the bench in front of us was my barrels and action. This is one of the differences with Perazzi, you aren't shooting a try gun but your actual gun itself.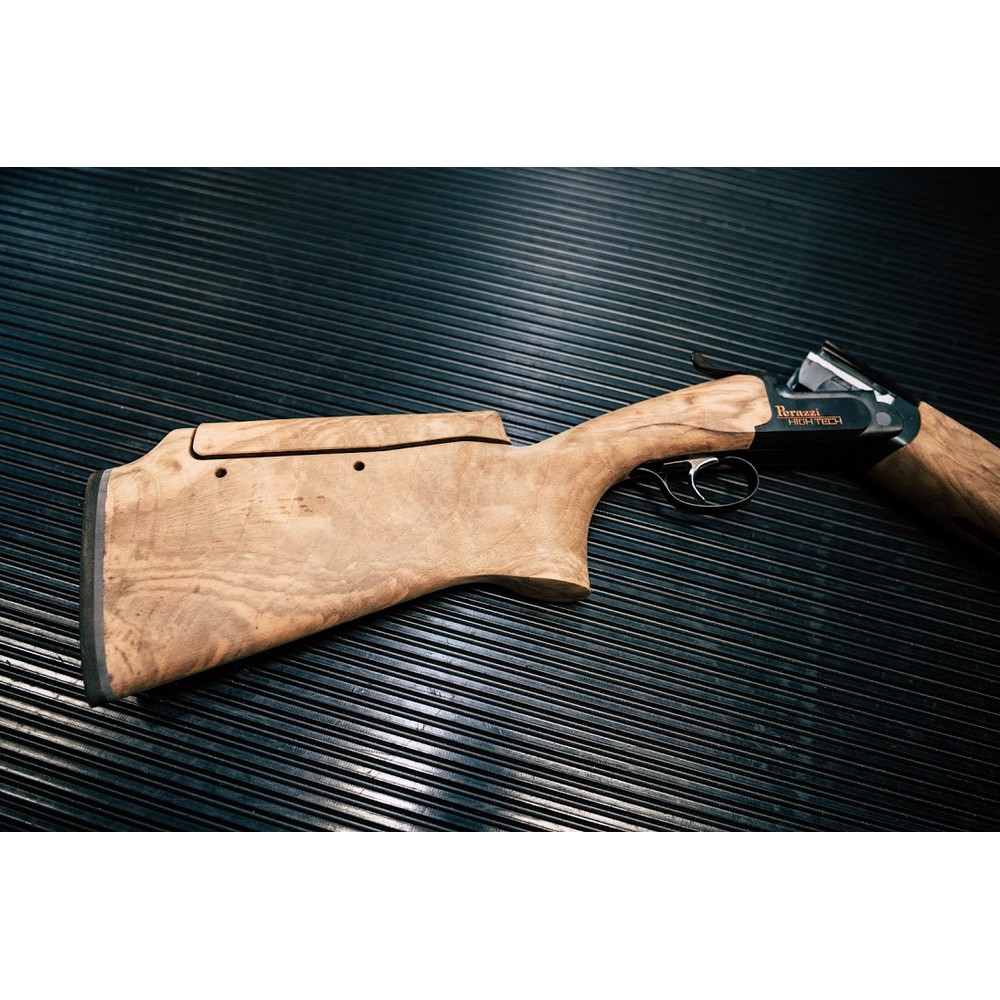 We then proceeded to the setting up of the try stock and then patterned it accordingly similar to Beretta. After this was complete we then went into the wood room to choose the wood for my gun.After selecting the blank with help from Lloyd and Mauro Perazzi, Mauro then selected wood for the forend. After the selection was complete the wood was off to be CNC machined. We returned on the following morning for final fitting and patterning. The stock in the white is on your very gun and after several adjustments and tweaks with dimensions and the grip we were all happy. Once they were completed and I was happy with the gun that was me finished and I had the luxury to watch the others undergo the same processes.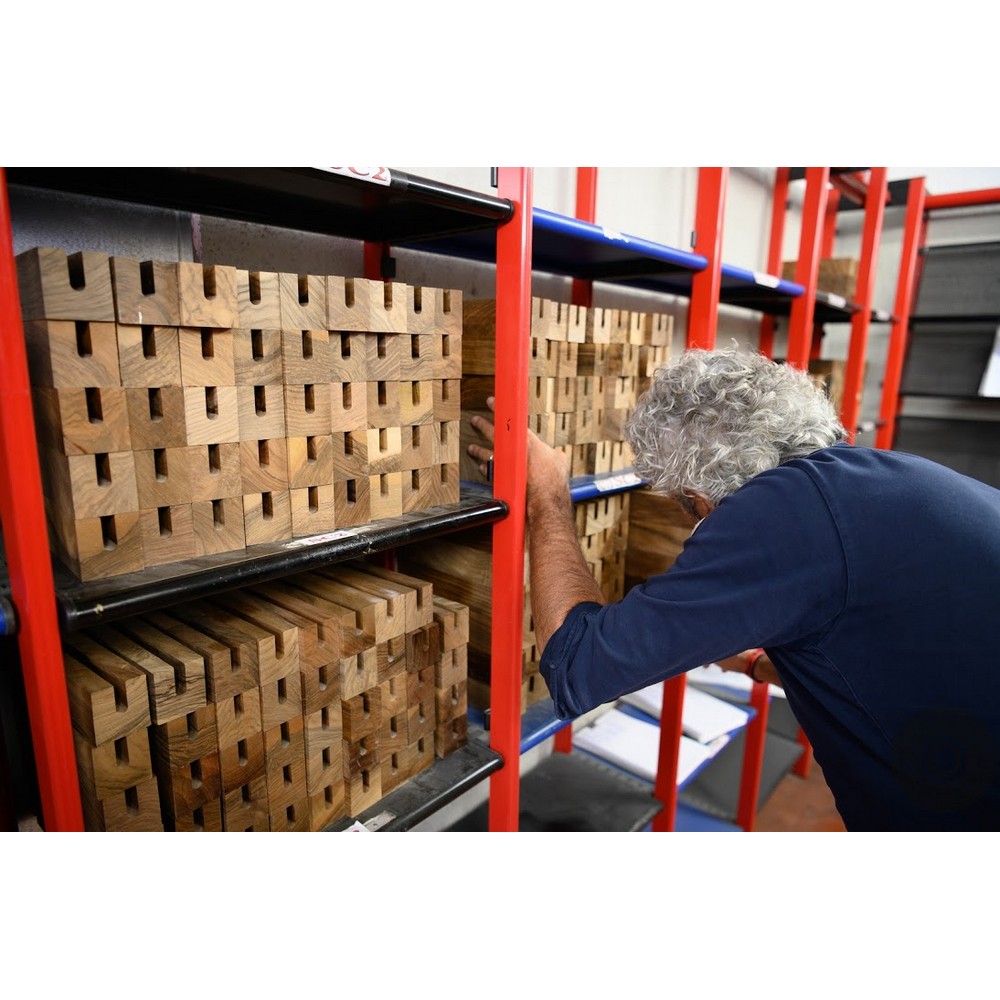 Having undergone this experience with both manufacturers there are some striking differences between them. Perazzi is a small family business so you are made to feel very welcome in their environment. The fact that almost anything is possible with the metalwork with the gun from Perazzi for me is a big thing. Beretta although very good with the custom stocks haven't quite got the flexibility when it comes the guns overall specification, which is fine if you don't want anything too specialist. The company is much larger so you experience a slightly more production feel around the factory. Both experiences are equally as good as each other but overall it depends on what you want out of the trip as to which manufacturer you opt to choose, I'll leave that one up to you.
Whatever you select I can highly recommend the Custom Gun Experience provide by Bywell Shooting Ground.